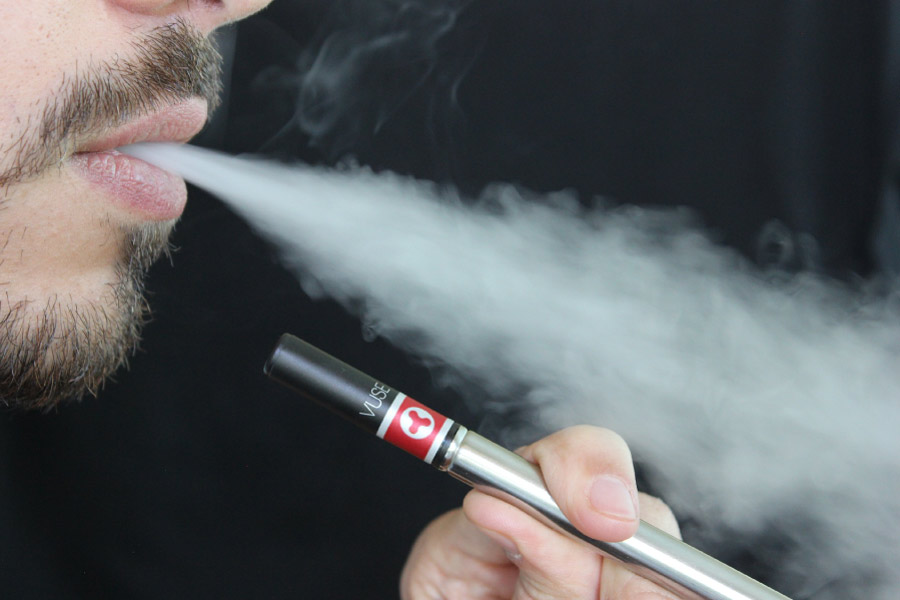 Vaping is the act of inhaling a vaporized solution with nicotine. It has become increasingly popular and stores selling vape products are popping up everywhere. Why are people using these battery-powered, electronic cigarettes? Some turn to vaping to avoid the smelly smoke that comes with traditional smoking. Others believe vaping is a safer or healthier option. Others use it to try and quit cigarettes for good. While more research remains to be done, it is clear that vaping still brings along many negative side effects. E-cigarettes contain a number of potentially harmful ingredients. The main concern is nicotine, which is highly addictive. But what about vaping and your oral health?
Vaping & Dental Decay
Studies are still being done to determine the long-term effects of vaping. However, it has been clear for years that exposure to nicotine is harmful, especially during adolescence and young adulthood. Unfortunately, almost 20% of high school students admit to vaping. Besides known health risks, there has also been research to show that vaping is tied to an increased risk of cavities. This occurs because the ingredients inside the vaping solution are damaging to the enamel. Without strong, healthy enamel, teeth are at more risk of developing decay.
Other Side Effects
It's not just cavities that have been connected to the use of e-cigarettes. Vaping can also lead to gum disease, dry mouth, and mouth sores. Interestingly, vaping has been tied to the presence of excess bacteria. Consequently, the chance of developing gum disease is greatly increased. Additionally, vaping may cause teeth discoloration. This is also a common side effect with regular tobacco usage.
Your Oral Health Advocates at Hillstream Dental
Hillstream Dental is always here to help you get answers to your oral health questions. You can think of our knowledgeable team as your guides to optimal oral health and beautiful smiles. Call, email us or click the contact link below to set up an appointment. We have practice locations in Rochester Hills or St. Clair Shores. With our comprehensive services, we're confident that we can help you.