Beautiful, Porcelain Veneers
Are you unhappy about certain aesthetic aspects of your teeth? Dental veneers give you the power to alter your smile's appearance in nearly any way you can imagine. Our custom-made, personalized veneers can help you achieve a stunning, picturesque smile that you'll love to show off. We offer custom porcelain veneers to our patients at both our Rochester Hills and St. Clair Shores locations. Contact us to set up your veneers consultation!
Contact Us
What Are Veneers?
Veneers are thin porcelain shells that are made to cover the front sides of your teeth. Veneers are most commonly applied to the teeth that show when you smile. One of the many benefits of veneers is that they are long-lasting and durable. With proper care, veneers can last up to 20 years before needing to be replaced!
The Veneers Process
Once we decide that veneers are the right cosmetic treatment for you, we'll prepare the selected teeth by removing a layer of enamel. Removing the enamel allows the veneers to sit flush and blend in seamlessly next to your natural teeth. After the removal, we'll take digital impressions of the prepared teeth and upload the imaging into our smile preview software. This advanced software allows us to map out a 3D model of our your teeth and design what your new smile will look like. We send the 3D model and the impressions to our trusted off-site lab where they'll fabricate the veneers. Once we get the veneers in, we bond them to your teeth and check the fit. We also make sure that you're happy with how they look and feel. Your opinion matters the most!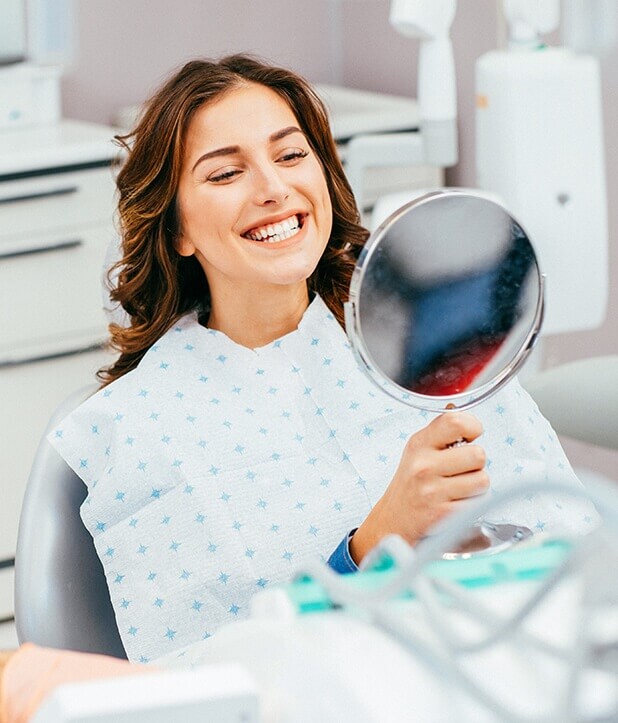 What Can Veneers Do?
Veneers can be used to correct a variety of aesthetic concerns, they can:
Alter the Shape of Teeth
Close Small Gaps Between Teeth
Cover Cracked or Chipped Teeth
Give Teeth a More Uniform Appearance
Lengthen Short Teeth
Whiten Teeth
The Cost of Veneers
The price of veneers varies based on a multitude of factors. At your consultation, we'll provide you with a cost estimate based on your specific needs and go over your payment options to help you fit veneers into your budget. Questions about your financial options? Visit our financial or contact our office!