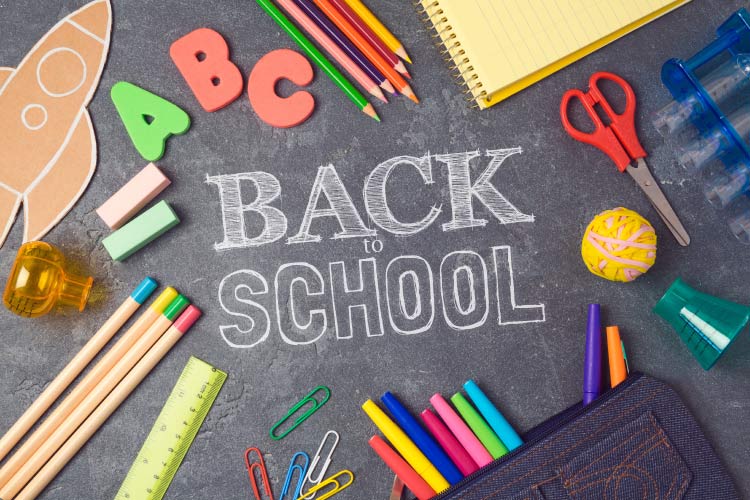 After the fun-filled summer months, fall can feel incredibly hectic as your family tries to balance school, homework, sports practices, music lessons, and other responsibilities. But the chaos is no excuse to fall behind on maintaining superb dental care. In this blog post, we'll provide some tips to keep your family's dental health on track as the school year commences.
Pack a Water Bottle

In addition to packing them a healthy lunch, send a refillable water bottle with your kid to school. Remind them to sip on it throughout the day, and to drink and swish it through their mouth after eating lunch and any snacks. Adequate hydration will help your child have an adequate flow of saliva, which is important for a healthy mouth. Drinking water can also dislodge trapped food particles and remove some of the bad bacteria from your child's mouth.

Jumpstart a Routine of Healthy Eating

Between all the summer BBQs, picnics, pool parties, and beach trips, your family may have indulged in a few too many cakes, pies, ice cream cones, and other sweet treats. Or perhaps summer camps and traveling disrupted your normal routine of grocery shopping, meal-planning, and cooking. As you ease back into a schedule this school year, commit to a healthy eating plan for your family, and stick to it! Remember to incorporate lots of nutrient-rich veggies, fruits, whole grains, and lean proteins, while limiting processed foods and drinks with high amounts of sugar. While the occasional soda or sweet treat is OK, consuming sugar and refined carbohydrates in moderation is best for your family's oral health and overall health.

Review Your Calendar

Though full of fun, summer can be crazy too. With vacations, camps, outings, and spur-of-the-moment activities, appointments often get rescheduled, in danger of being forgotten. But the fall season is a new start, and a great time to take a step back and review your calendar. Don't have your child's next dental cleaning scheduled? Reach out to our team today to schedule a convenient appointment!
Superb Dental Care Year-Round at Hillstream Dental
Here at Hillstream Dental, we treat patients of all ages in Rochester Hills and St. Clair Shores. Your kiddos will love our books, toys, cozy blankets, TVs in private treatment rooms, and treasure chest with prizes. Whenever your family pays us a visit for a cleaning, checkup, or other dental service, our friendly team delivers quality care in a modern and comfortable setting. Contact us today to set up visits for your entire family!
Contact Us