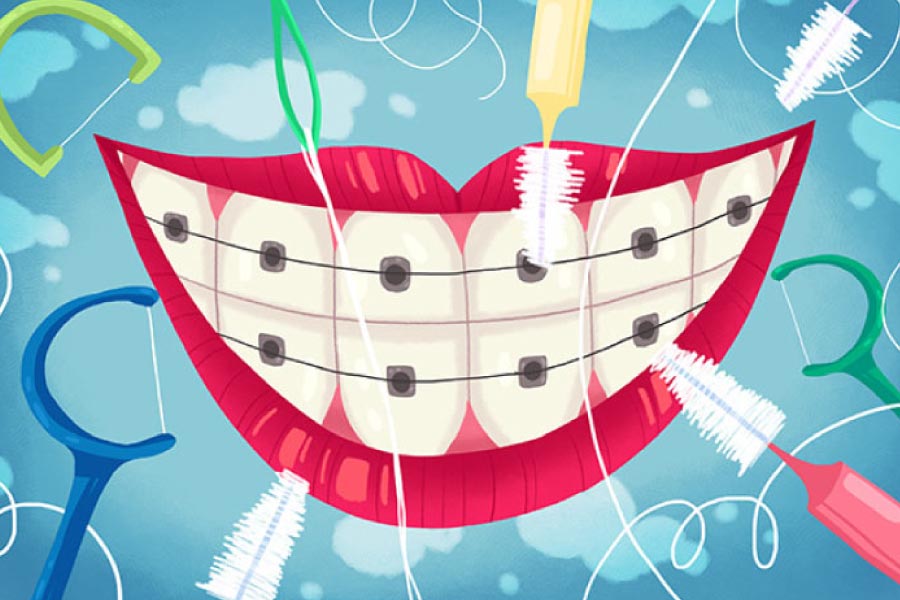 When straightening your teeth with braces, we understand that it can feel challenging to properly clean your teeth. At Hillstream Dental, we want to help you maintain great oral health while straightening your teeth. Here is what you need to do to properly care for your teeth while you have braces.
Adjust Your Oral Hygiene Routine
It can be hard to properly brush and floss your teeth when working around brackets and wires. To ensure your teeth are thoroughly cleaned, we have some recommendations.
Brush Carefully

Brushing for two minutes can already seem like a long time. However, with braces, it may take even longer to ensure that your teeth are completely clean. Ask your dentist about the different types of toothbrushes you can use to maneuver around braces, including a v-shaped toothbrush.

Use an Interdental Toothbrush

After you've brushed your teeth with your regular toothbrush, we recommend going back in with an interdental toothbrush. This small bristled brush looks similar to a mascara wand and is designed to fit in tight spaces of the mouth. An interdental brush can brush away trapped food particles behind wires and around bracketed molars in the back of the mouth.

Find an Orthodontic-Approved Floss

There are many floss options designed specifically for people with braces. You shouldn't have to stress about trying to thread a floss strand around your wires!
Avoid Certain Foods
There are many foods that can get stuck or lodged around your braces, which can cause cavities. Here are some examples of foods you should avoid while you straighten your teeth to keep them healthy.
Caramel
Gum
Peanut Brittle
Popcorn
Taffy
Attend Your Dental Checkups & Cleanings
In addition to your regular orthodontic visits, you should also still attend your biannual dental appointments. This gives your dentist a chance to check for any dental issues or cavities. They will also do a deep clean around your braces and clean anything you may have missed before it causes plaque and decay.
Family Dental Care in Rochester Hills & St. Clair Shores
Questions about caring for your smile while you have braces? Please feel free to contact Hillstream Dental to learn more! We offer both Invisalign® clear aligners and comprehensive traditional orthodontics. Our offices are conveniently located in Rochester Hills and St. Clair Shores.