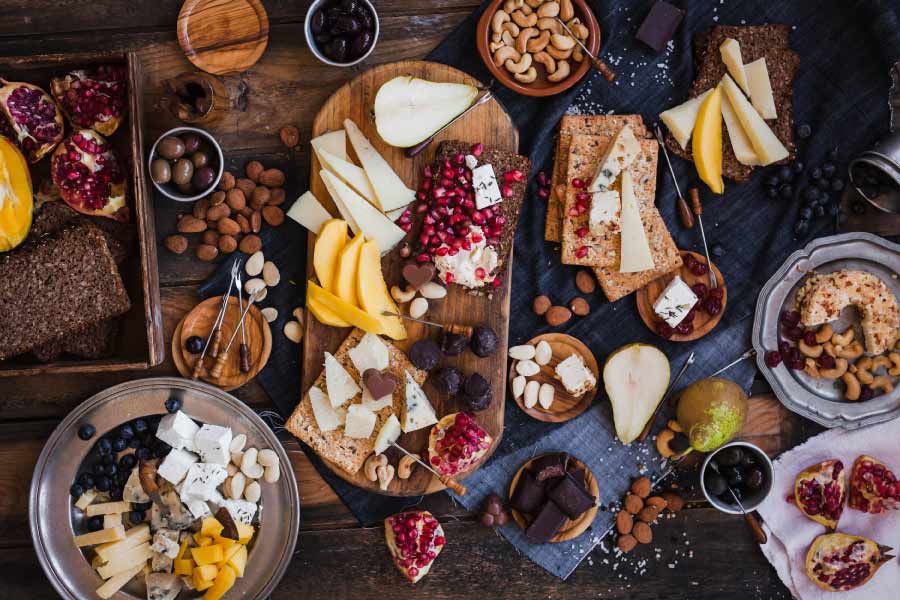 The most wonderful time of the year is finally here! We understand that this festive month can make it hard to resist overindulging on favorite sugary treats that come with the season. However, not all of the food offerings need to be sweet to be beautiful or appetizing. Here are some of our favorite tooth-friendly holiday treats that we think you'll love.
Festive Charcuterie Boards
Believe it or not, cheese is on Santa's tooth nice list. Cheese is jam-packed with calcium and can help strengthen your teeth. Meat is also great for oral health. It increases saliva in the mouth and decreases the acidity. A meat and cheese board will not only wow your guests, but also keep your smile merry and bright!
Fruit with Dark Chocolate
Substitute the crowd favorite chocolate-covered strawberries with dark chocolate instead of milk chocolate. Dark chocolate has significantly less sugar than milk chocolate. If you want to nix the chocolate altogether, you can make fruit kabobs with all of your favorite fruits.
Vegetable Trays
Vegetables are filled with nutrients that promote great oral and total-body health. Besides being excellent for snacking, they are crisp and colorful. They can also help you feel full to prevent you from wandering to the sugary section of foods at the holiday party.
Chex Mix with Nuts
This homemade favorite is another good alternative to sweets. The toasted cereal combined with almonds, cashews, and peanuts is delicious! While the Chex Mix doesn't have much health value, the nuts do! Nuts have a ton of calcium, vitamin D, and phosphorus that help fight off bad bacteria.
It's Okay to Have a Little Bit of Sugar!
Part of the fun of the holiday season is enjoying some favorite desserts. If you have a sugary treat, remember to rinse your mouth with water afterward and brush your teeth. This will help prevent the sugars from turning acidic and eating away at your enamel.
Happy Holidays From Hillstream Dental
Call either our Rochester Hills or St. Clair Shores office to schedule your biannual checkup if you haven't visited us twice this year. Don't let those insurance benefits go to waste! It's also time to be thinking about your dental care for next year. Ask us about our Dental Savers Plan. It makes more financial sense for some of our patients than traditional dental insurance.