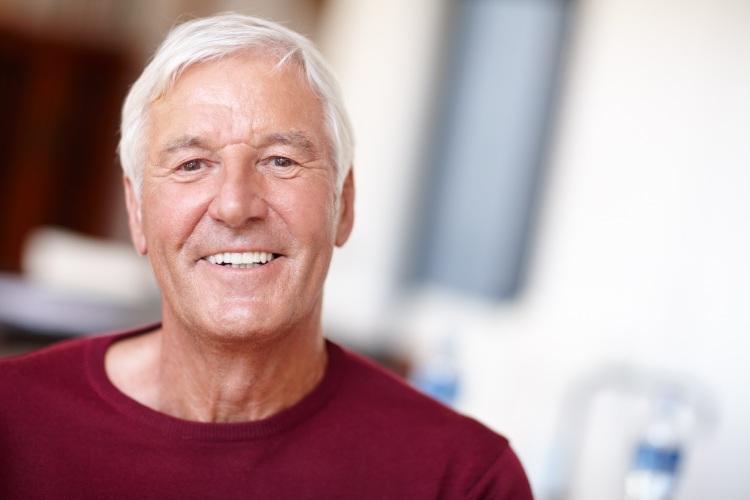 Not only do missing teeth impact your smile, appearance, and confidence, they can also negatively affect your diet and lifestyle. If you're living with missing teeth, our team can offer you a long-term solution that restores your smile to full function and beauty! Whether you're considering dentures or another restorative treatment for missing teeth, we're here to help you every step of the way so you can embrace life with a dazzling smile.
What Do Dentures Do?
Dentures treat missing teeth – whether you're using a partial denture for just a few missing teeth, or full dentures to replace an entire arch of teeth. Dentures consist of an acrylic base that fits over gums with natural-looking artificial teeth attached. Some dentures are anchored using dental implants or neighboring natural teeth, while other dentures require adhesive to stay in place.
Our team will carefully consider your oral health and your goals for your smile to determine whether dentures or a hybrid treatment like implant-supported dentures are the right fit for you.
How Often Do You Have to Replace Dentures?
When you are missing teeth, your gums may shrink over time so dentures will require replacement and re-fitting approximately every 5-8 years due to changes in your gum structure. Bone loss can also occur if there's nothing stimulating growth in your jawbone. To clean your dentures and promote their longevity, brush them after every meal with a special denture cleanser and take them out overnight for a deep soak. Dentures are delicate so take care not to drop or mishandle your dentures.
If you're looking for a more permanent restoration option, dental implants can last upwards from ten to fifteen years with excellent oral hygiene.
Schedule a Visit to Hillstream Dental!
Dentures are an affordable and effective way to regain full function of your smile. To ask our team any questions about how we can restore your smile or to schedule a consultation, contact our office today.
Contact Us