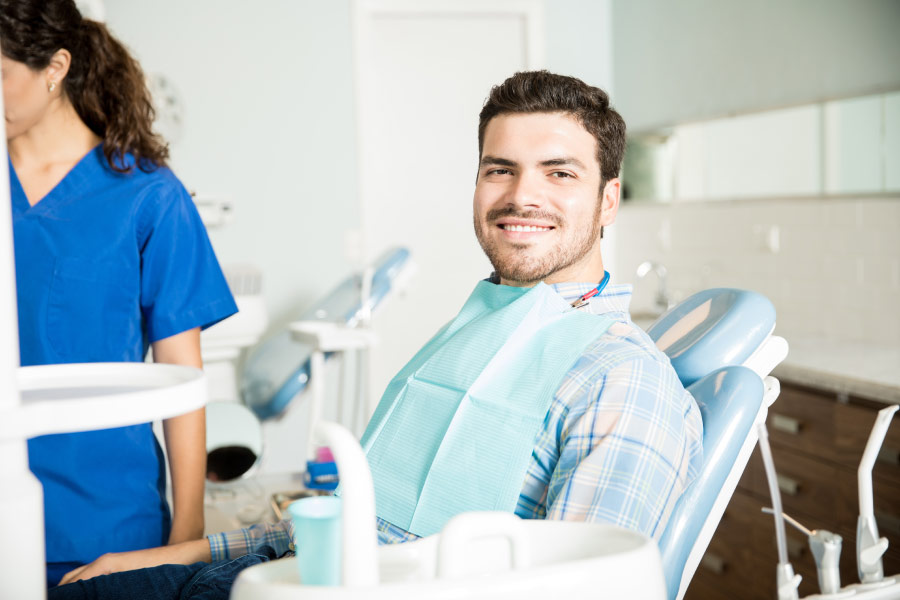 In this post, we discuss a few possible allergy triggers at the dentist, including natural rubber latex, local anesthesia, and certain dental materials.
Natural Rubber Latex
Natural rubber latex is a material commonly utilized in the medical space. Think examination gloves, tubing, and some bandages, for example. Approximately 1% of the general population is allergic to a protein in this substance. Nitrile and vinyl products, which are made with synthetic latex, do not contain this protein.
Patients who are allergic to natural rubber latex can experience a range of reactions, such as:
Itchy skin, nose, throat, or eyes
Skin redness, a rash, or hives
Nausea or abdominal cramps
Difficulty breathing, a runny nose, sneezing, coughing, or wheezing
A latex allergy can also lead to anaphylaxis, which is a life-threatening systemic reaction. It is characterized by:
Difficulty breathing
A drop in blood pressure
Swelling of the throat, tongue, and nose
If you think you may be allergic to latex, consult with your primary care physician about being tested. And be sure to let us know about your allergy before your visit.
Local Anesthesia
The numbing delivered by a local anesthetic is a key component of patient comfort during a variety of dental procedures. These medications keep you pain-free during treatment. However, adverse reactions to a local anesthetic are rarely due to an allergy.
Patients with certain health conditions, such as asthma, epilepsy, heart disease, thyroid dysfunction, or diabetes, can experience effects related to their condition. An adverse reaction to local anesthesia can also occur due to anxiety about the injection in the form of:
Fainting
Hyperventilation
An anxiety attack
Local anesthesia drugs are safe when administered by a trained professional. Our expert team takes into account your medical history, age, and weight to determine the safe dosage for your unique circumstances. Additionally, we offer relaxing sedation options to reduce your anxiety throughout treatment.
Consult with our team about your options if you've experienced dental anxiety or a reaction to local anesthesia!
Contact Dermatitis
Some patients are allergic to the materials used in various restorative procedures. These materials can include:
Amalgam
Porcelain
Dental composite resins
Titanium
Usually, the body's response to such an allergy is known as contact dermatitis. Contact dermatitis manifests as:
Notify us if you've experienced contact dermatitis at the dentist so we can avoid that material in your treatment.
Careful Dental Care in Rochester Hills & St. Clair Shores
At Hillstream Dental, your dentist in Rochester Hills and St. Clair Shores, we prioritize the comfort and safety of each and every one of our patients. Before your visit to our office, if there's anything we need to know about possible allergic reactions or other health conditions, please let us know! We are equipped to make certain accomodations to reduce your exposure to allergens.
Contact us today with any questions or to schedule your next appointment!
Contact Us