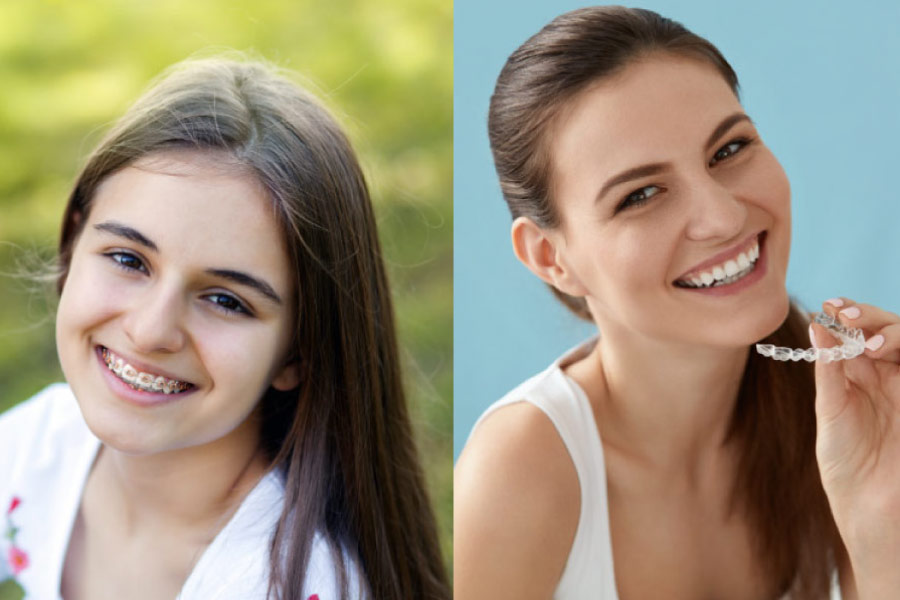 Invisalign® has several advantages over traditional metal braces. For example, the clear aligners are far less noticeable than metal brackets and wires. The aligners are removable and don't require dietary restrictions, unlike traditional braces. However, determining which orthodontic treatment is best for you is a decision involving many factors. If you're wondering whether Invisalign works better than traditional braces, here are some questions to consider.
Does Invisalign Straighten Teeth Better Than Traditional Braces?
Invisalign clear aligner therapy straightens smiles using a series of clear plastic aligners. Over time, the aligners gently shift your teeth into the right position. It's a versatile solution for many orthodontic issues such as crowding, overbites, and other alignment issues. But, traditional metal braces may be a better option for those with severe alignment problems. There's no one-size-fits-all solution when it comes to orthodontic treatment. Instead, the best option depends on your oral health history, your goals, and your budget.
Does Invisalign Work Quicker Than Traditional Braces?
In many cases, orthodontic treatment with Invisalign can take anywhere from six months to two years. Ceramic braces can take from one to three years, while the treatment time for metal braces ranges from less than a year to two years. For each individual patient, treatment time varies based on your orthodontic needs. During your consultation for orthodontic treatment with our team, we will provide you with a personalized estimate.
Is Invisalign Cheaper Than Traditional Braces?
The cost of orthodontic treatment hinges on your personal needs and the method you select. Generally, traditional metal braces are the most affordable orthodontic option. We offer various financing options that can make Invisalign affordable for your budget. We also accept most major dental insurances.
Invisalign in Rochester Hills & St. Clair Shores
Whichever orthodontic treatment you choose, Hillstream Dental has you covered. We offer Invisalign clear aligners, traditional braces and ceramic braces. Because we offer so many options, we can be totally impartial when helping you decide which treatment is best for you or your family member. To learn more about orthodontic treatment or to schedule a consultation, call Hillstream Dental today!
Contact Us