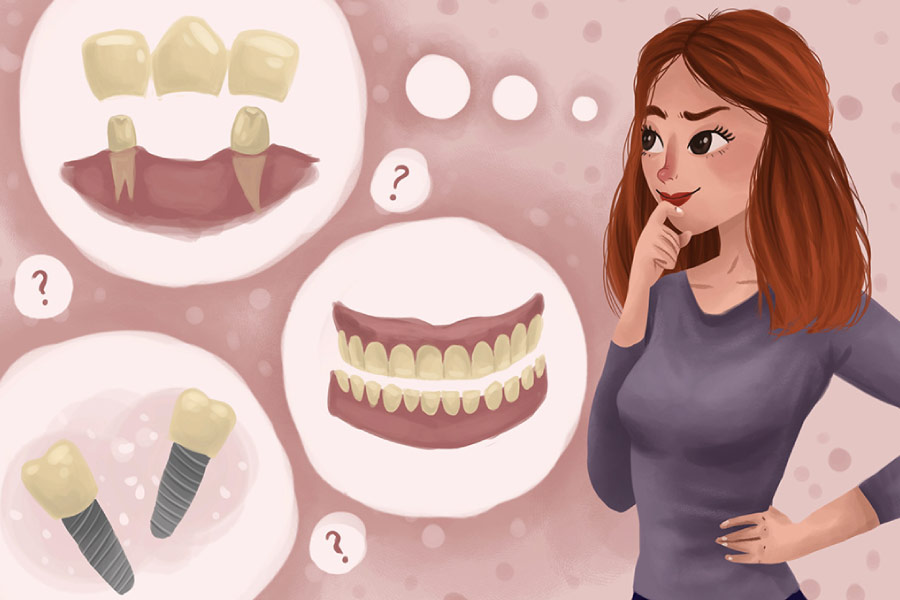 Due to advancements in restorative dentistry, there are many choices when it comes to replacing missing or damaged teeth. Two popular options include dental implants and dentures. Both can result in a sturdy and realistic appearance. So which is right for you?
Benefits of Dental Implants & Dentures
Dental implants and full or partial dentures each have their advantages and disadvantages. We'll give you an overview, but the best way to determine all of your options is to schedule a consultation with Hillstream Dental. One of our dentists will discuss the available treatments and help you choose the one that will ensure the best outcome for your oral health.
There are some great things that dental implants and dentures can do for you if you are missing teeth.
Support Facial Muscles
Improve Speech
Help You Chew Food
Increase Self-Esteem
Help You Maintain Your Remaining Teeth
The Difference Between Dental Implants & Dentures
Dental implants
Dental implants require a surgical procedure where a titanium post is implanted in the jawbone providing a secure base for the false tooth or teeth. Patients must have a healthy jawbone and gums. There is a period of several months required for the implant to fuse with the bone and heal completely. Implants are a long-lasting solution, easy to care for and clean, and feel like natural teeth!
Dentures
Similar to a removable oral appliance, dentures can replace a full or partial section of teeth. Dentures attach with an adhesive or clip. They need to be removed regularly for cleaning. It takes some patients a little while to adjust to the way they feel in their mouth but custom dentures are much more comfortable than they used to be. There's also no surgery required, unless it is necessary to remove additional teeth.
Selecting a Restoration
Considering the following factors can help you decide which restoration is right for you.
Function & Appearance
Healthy Bone Tissue
Amount of Missing Teeth
Time for Dedicated Care
Recovery after Treatment
Budget
Restorative Dental Treatments in Rochester Hills & St. Clair Shores, MI
Dental implants, dentures, and other restorative dental treatments can help maintain or restore your smile. You might have a general idea about which restoration appeals to you, or maybe you have no idea how to proceed. Either way, we recommend that you schedule a visit with our Hillstream Dental team. You can learn more about the treatment process and get started on your new smile!
Contact Us