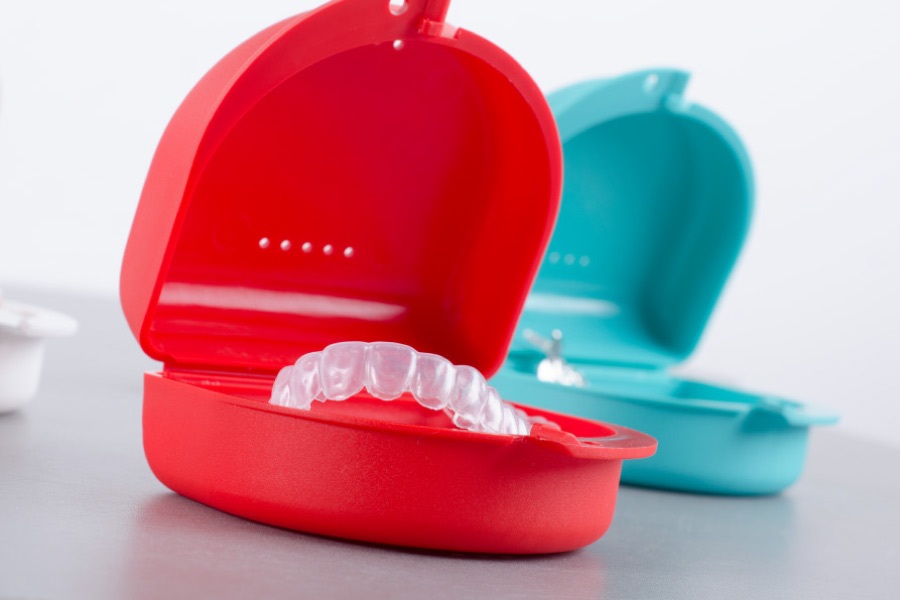 For many people, Invisalign® clear aligners are their ticket to their dream smile. Without the noticeable brackets and wires of braces, Invisalign aligners can shift teeth into their perfect positions. No more worries about common misalignment issues like crowding, crookedness, and gaps. But while Invisalign is taking care of you, it's important to take care of your Invisalign. Here are some way to care for your clear aligners.
Regular Rinsing
Whenever you take out your aligners, which should be every time you're about to eat or brush your teeth, then you should rinse them with water. If you don't rinse them before putting them back in the case, you're letting bacteria remain on the aligners. That bacteria could wind up back on your teeth. It's not just straight teeth you want, but healthy, cavity-free teeth too!
Don't Eat With Them
It's not advisable to eat food with your Invisalign clear aligners still in your mouth. We understand that it's a bit of a hassle to take them out if you want a quick snack, but it's worth it. If you eat with your aligners in your mouth, there's a chance that you'll damage them. Then you have to deal with a much bigger hassle of delaying your treatment while a new set is being made.
Keep Them in the Case
Whenever your Invisalign aligners aren't in your mouth, they should be in their designated case. The case will keep them protected from damage and dirt. It will also help you avoid accidentally throwing them away because you wrapped them up in some nondescript napkin or tissue.
Invisalign in Rochester Hills & St. Clair Shores
Hillstream Dental provides Invisalign clear orthodontics at both of our practice locations in Rochester Hills and St. Clair Shores. Taking care of your aligners is important so that your treatment can progress as planned. We also offer orthodontic options besides Invisalign. Our experienced team can answer any questions you might have about your dental care.
Contact Us